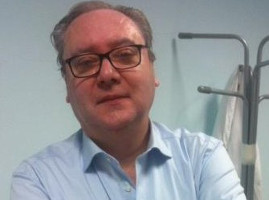 Paolo Costa, MD, Neurologist and Clinical Neurophysiologist, is the Director of Clinical Neurophysiology Unit of "Città della Salute e della Scienza" in Torino, Italy (CTO Hospital). Since 2000 he is involved in Intraoperative Neurophysiology, with an experience of 3500 adult and pediatric neurosurgical and orthopedic surgeries.
From 2010 to 2014 Dr. Costa has been member of the Scientific Committee of the Italian Society Of Clinical Neurophysiology. Since 2014, may Dr. Costa is the coordinator ofthe IN Study Group of the Italian Society Of Clinical Neurophysiology.
References
Costa P, Faccani G, Sala F, Montalenti E, Giobbe ML, Deletis V. Neurophysiological assessment of the injured spinal cord: an intraoperative approach. Spinal Cord. 2014 Oct;52(10):749-57.
Costa P, Peretta P, Faccani G. Relevance of intraoperative D wave in spine and spinal cord surgeries. Eur Spine J. 2013 Apr;22(4):840-8.
Deletis V, Sala F, Costa P. Neurophysiological Monitoring of the Human Spinal Cord Functional Integrity during Surgical Interventions. In Dimitrijevic MR, Kakulas BA, McKay WB, Vrbova G (eds) Restorative Neurology of Spinal Cord Injury. Oxford University Press, 2012: 201-225.
Costa P, Bruno A, Bonzanino M, Massaro F, Caruso L, Vincenzo I, Ciaramitaro P, Montalenti E. Somatosensory- and motor-evoked potential monitoring during spine and spinal cord surgery. Spinal Cord. 2007 Jan;45(1):86-91.