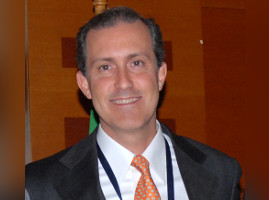 I was born and raised in Santiago, Chile, spending part of my childhood and primary education in Barcelona, Spain. I attended medical school at the Universidad Catolica de Chile and got my MD magna cum laude with honors in 1991. I then specialized in Neurology at the University of Chile.  From 1994  through 1998 I worked at Hospital San José in Santiago as Head and Chairman of the Neurology Department and joined Clinica Las Condes in 1994, where I became member of the senior staff in 1998 and have been working eversince.
Upon my arrival to Clínica Las Condes, the Chief of Neurosurgery, world-renowned Dr. Luciano Basauri FACS, faced me with the challenge of implementing Intraoperative Neurophysiologic Monitoring in complex surgeries of the Central Nervous System, to which I dedicated myself with great enthusiasm. This brought me to dedicate a great many hours of my time to developing techniques with the available technology in those days. I have been doing IONM for 20 years.
Throughout the years I have consistently dedicated time to continuing my studies at symposiums at Beth Israel Medical Center in N.Y. with Dr. Vedran Deletis, and at Cleveland Clinic's Epilepsy Center with Dr. Hans Lüders in cortical mapping and Functional Magnetic Resonance. I consistently assist o the ISIN Congress every two years and to the Educational courses on Intraoperative Neurophysiology in Barcelona 2011, u 2012 and Cape Town 2013, finishing the Cycle of three years of continuous education in IONM.
I have realized many presentations at both national and international neurophysiology meetings. In 2009 I was a founding member of the Special Interest Group in Intraoperative Neurophysiology of the Latin American Chapter of the IFCN. In 2011, I was the Chairman of the Third Latin American Symposium of Neurophysiological Monitoring in Viña del Mar, Chile. The same year, I was elected in Barcelona as member for Latin America on the Board of Directors of the International Society of Intraoperative Neurophysiology (ISIN). Since the year 2013 in Cape Town, I am the Secretary of the ISIN. This year I will have the great honor to Co-Chair with my friend Dr. Ricardo Ferreira, the 5 th ISIN Congress and Educational Course to be held in Rio de Janeiro November 9 to 14 th , 2015.
Another area of particular interest to me is cerebrovascular disease; with special dedication to the care and management of acute stoke patients, also participating in the American Stroke Association.
I am also the proud father of three boys and married to a gorgeous woman who grew up in N.Y. and is an MD specialized in Immunology and Rheumatology.
My hobbies include traveling, meeting new people and discovering new places, wine tasting, and spending time with my family.