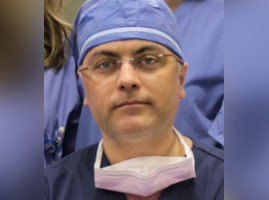 Professional Profile
Sedat Ulkatan has graduated from Ankara University Medical Faculty and did Neurology residency in the same Institute. IOM director of Roosevelt Hospital in Mount Sinai health system. Did fellowship in the same department and worked as an IOM Specialist.
Collaborates with ISIN and other centers in Europe for IOM research. Runs a fellowship program which isestablished by Dr. Vedran Deletis In New York.
Work History
Director at Roosevelt Hospital , New York, Since 2008
IOM specialist at Roosevelt Hospital, New York, Since 2006
IOM fellow at Roosevelt Hospital , New York, 2003-2006
Neurology Specialist at Kirikkale University, Kirikkale, Turkey 1999-2003
Education
Neurology Resident at Ankara University, Ankara Turkey 1992-1998
M.D at Ankara University, Ankara Turkey 1986-1992
Peer reviewed published articles
Malcharek M J, Kulpok A, Deletis V, Ulkatan S, Sablotzki A, Hennig G, Gille J, Pilge S, Schneider G. Intraoperative Multimodal Evoked Potential Monitoring During Carotid Endarterectomy: A Retrospective Study of 264 Patients. Anesth Analg. 2015 Jun;120(6):1352-60.
Eric Azabou, Veronique Manel, Kariman Abelin-Genevois, Nathalie Andre-Obadia, Vincent Cunin, Christophe Garin,Remi Kohler, Jérome Berard, Sedat Ulkatan, Predicting intraoperative feasibility of combined TES-mMEP and cSSEP monitoring during scoliosis surgery based on preoperative neurophysiological assessment. The Spine Journal 2014 Jul 1;14(7):1214-20
Alcantara S, Wuamett J, Lantis J, Ulkatan S, Bamberger P, Mendes D,Benvenisty A, Todd G, Outcomes of combined Somatosensory-evoked Potential, Motor-evoked Potential, and Electroencephalography Monitoring During Carotid Endarterectomy, Annals of Vascular Surgery;2014 Apr;28(3):665-72
Ulkatan S, Waner M, Arranz-Arranz B, Weiss I, O TM, Saral M, Deletis V, Berenstein A. New methodology for facial nerve monitoring in extracranial surgeries of vascular malformations. Clin Neurophysiol. 2014 Apr;125(4):849-55
M. J. Malcharek, S. Ulkatan, V. Marinò, M. Geyer, E. LLadó-Carbó, G. Perez-Fajardo, B. Arranz-Arranz, J. Climent, F. Aloj, E. Franco, L. Chiacchiari, A. Kulpok, A. Sablotzki, G. Hennig, V. Deletis. Intraoperative monitoring of carotid endarterectomy by transcranial motor evoked potential: A multicenter study of 600 patients. Clin Neurophysiol. 2013 May;124(5):1025-30
Fernández-Conejero I, Ulkatan S, Sen C, Deletis V. Intra-operative neurophysiology during microvascular decompression for hemifacial spasm. Clin Neurophysiol. 2012 Jan;123(1):78-83. Epub 2011 Dec 1. Review.
Bamberger PD, Ulkatan S, Carbó EL, Deletis V, Benvenisty A. Potential adverse effects of norepinephrine on cortical somatosensory-evoked potentials during carotid endarterectomy: a case report..J Clin Anesth. 2011 Dec;23(8):657-60
Deletis V, Fernández-Conejero I, Ulkatan S, Rogić M, Carbó EL, Hiltzik D. Methodology for intraoperative recording of the corticobulbar motor evoked potentials from cricothyroid muscles. Clin Neurophysiol 2011 Sep;122(9):1883-9
Yanni DS, Ulkatan S, Deletis V, Barrenechea IJ, Sen C, Perin NI. Utility of neurophysiological monitoring using dorsal column mapping in intramedullary spinal cord surgery. J Neurosurg Spine. 2010 Jun;12(6):623-8
Deletis V, Urriza J, Ulkatan S, Fernandez-Conejero I, Lesser J, Misita D.The feasibility of recording blink reflexes under general anesthesia. Muscle Nerve. 2009 May;39(5):642-6
Deletis V, Fernandez-Conejero I, Ulkatan S, Costantino P. Methodology for intraoperatively eliciting motor evoked potentials in the vocal muscles by electrical stimulation of the corticobulbar tract. Clin Neurophysiol. 2009 Feb;120(2):336-41
Téllez MJ, Ulkatan S. Neurophysiological evaluation of trigeminal and facial nerves in patients with chronic inflammatory demyelinating polyneuropathy. Muscle Nerve. 2008 Nov;38(5):1524-5
Ulkatan S, Neuwirth M, Bitan F, Minardi C, Kokoszka A, Deletis V. Monitoring of scoliosis surgery with epidurally recorded motor evoked potentials (D wave) revealed false results. Clin Neurophysiol. 2006 Sep;117(9):2093-101. Epub 2006 Jul 17
Birol A, Ulkatan S, Kocak M, Erkek E. Peripheral neuropathy in Behcet's disease. J Dermatol. 2004 Jun;31(6):455-9
Erkek E, Hizel S, Sanli C, Erkek AB, Tombakoglu M, Bozdogan O, Ulkatan S, Akarsu C. Clinical and histopathological findings in Bannayan-Riley-Ruvalcaba syndrome. J Am Acad Dermatol. 2005 Oct;53(4):639-4
Tan FU, Cetinkaya H, Erden E, Ulkatan S, Aydin N. Dual benefit from intramuscular interferon-beta treatment in a patient with multiple sclerosis and chronic hepatitis-C virus infection. Hepatogastroenterology. 2002 Nov-Dec;49(48):1686-7
Akbostanci MC, Ulkatan S, Yigit A, Aydin N, Mutluer N. Difference of disability between electrophysiologic subgroups of essential tremor. Can J Neurol Sci. 2000 Feb;27(1):60-4
Sener HO, Ulkatan S, Selcuki D. Effect of thigh flexion on somatosensory evoked potentials in meralgia paresthetica. Acta Neurol Belg. 1999 Sep;99(3):194-7
Akbostanci MC, Yigit A, Ulkatan S. Cavernous angioma presenting with hemidystonia. Clin Neurol Neurosurg. 1998 Sep;100(3):234-7
Published Book chapters
Vedran Deletis, Francesco Sala, Sedat Ulkatan, Section I: Transcranial electricalstimulation and intraoperative neurophysiology of the corticospinal tract, In Eric Wassermann, Charles Epstein, Ulf Ziemann, Vincent Walsh, Tomás Paus, and Sarah Lisanby Oxford University Press, Handbook of Transcranial Stimulation. 2008