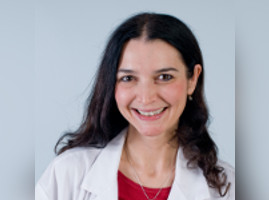 Dr. Mirela Simon received her Medical degree from Carol Davila University of Medicine and Pharmacy in Bucharest, Romania and a Master of Science in Epidemiology from Harvard School of Public Health. She completed her Neurology residency at Boston University Medical Center followed by a two-year clinical neurophysiology/epilepsy Fellowship at Massachusetts General Hospital in Boston, USA.
Dr. Simon joined the faculty at MGH in 2003, and since thenhas served at the Medical Director of the Intraoperative Neurophysiology Unit in the Department of Neurology. She is currently an Assistant Professor of Neurology at Harvard Medical School. Dr. Simon has a broad interest in clinical neurophysiology, particularly its intraoperative applications in the prevention of postoperative neurological deficit.
A major emphasis of her research is to improve and develop new methods for neurophysiologic mapping of the central nervous system. In addition, she works to foster a better understanding of the neurophysiology of normal and abnormal cortical excitability, and its fluctuations under certain conditions such as anesthesia and arousal states. Her exploration of the variability in depolarizing thresholds of eloquent cortex has led to the optimization of a multimodal technique for neurophysiologic functional mapping and monitoring during supratentorial surgery.